I'm not much of a shopper. You can find me at the mall about every 3-6 months, usually in search of something specific I need. Like taking our knives in to be sharpened at the cutlery store, for example, or getting new glasses. Not everyone would even classify these things as shopping.
The Professor does a lot of the laundry, and recently she's informed me that based on the state of what she's seeing come through, I should buy some clothes. (Hard to believe, I know, that someone who sits around reading the dictionary doesn't put a lot of energy into fashion.) She also mentioned that I should "feel free to buy a new coat" if I ran into one.
The winter coat I use most was bought when we moved to Washington in 2001. Coming from Puerto Rico and the Southern border, I didn't have anything appropriate to protect me against the Pacific Northwest weather. After 10 years, the water resistant coating is long gone, no amount of Spray-n-Wash will get the cuffs clean, and there's some sort of big black stain that I tend to ignore because it's hidden under the hood if I don't have it up. (And when it is up, the stain is behind me and I can't see it!)
I'm visiting my family in Wisconsin for the holiday. Yesterday, I took advantage of the opportunity to hang out with a friend from grad school who lives nearby. We hit the Jelly Belly visitor's center, and then she suggested we head over to the nearby Pleasant Prairie Premium Outlets. I was unenthusiastic because of my shopping aversion and because it was Thanksgiving weekend, but anything I do with her has always been fun. Off we went. (Hang tight; I am getting to today's word…)
We were driving through the parking lot looking at the different stores, and she said, "There's North Face. Do you need a coat?" Why yes, yes! I needed a coat! This pretty much met the Professor's criterion of running into one. The Accidental Overcoat, starring me. I wasn't successful at the first store, but I ended up getting a wonderful coat at Eddie Bauer a couple doors over. My favorite color (purple), and perfect for the Pacific Northwest—an outer layer that's water/windproof, and a fleece inner layer. You can wear one, the other, or both, giving you three possibilities. Hence, it is christened the 3-in-1 parka. (Whew! Finally there.)
I was thinking about the word parka, and wondered if perhaps it was Inuit. It fits the context of Arctic life—a prominent image of it in our part of the world is this tailfin iconography of Alaska Airlines.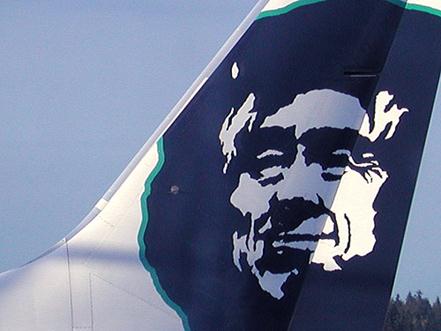 The word also seemed to jive with the sounds of other "k" words and place names from that part of the indigenous world—like mukluk, kayak, Sitka, and Alaska itself. (Careful, though. Chukka is Hindi.)
I was close to the right area of the globe, but we have to continue across the Bering Strait to find the origin of this word. Parka comes from Nenets, the language of an indigenous people found in Russia. And in fact, it is the only Nenets word that has made its way into English.
I learned that Nenets is a member of the Samoyedic family of languages. This came as a surprise to me, as I had never heard of the Samoyedic family! If it's cold and northern where it's spoken, it might be Samoyedic. Among others, the Finnish language is called Suomi, and Lapps is Saami. The –d  on Samoyed (an indicator of plurality) was misunderstood at some point by the Russians, so accounting for that you can see the similarities in Samoy, Suomi, and Saami.
As usual, my curiosity about one word took me on a journey—this time, to a place I'd never been, both geographically and linguistically.
Stay warm, everybody!